Chairman's Profile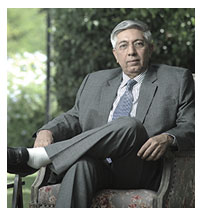 MR. JITENDRA THAKKER
CHAIRMAN
Born in 1957, Mr. Jitendra Thakker, followed his father's footsteps and joined the land development business in his early 20's and since then has taken the family business to dizzying heights of fame and success. Under his dynamic leadership, the Thakkers Group has grown to become a leading name in the field of real estate development in North Maharashtra.
Under his able leadership, the first public limited company in North Maharashtra was listed 12th among 47 fastest growing construction companies of India by 'Construction World', a leading magazine devoted to Real Estate Development.
He has also offered his valuable service to the countrywide profession of Real Estate Development. He has devotedly worked for the establishment of developers' association at local level in Nashik, at state level in Maharashtra and also at the national level.
Mr. Jitendra Thakker has been instrumental in establishing Promoters and Builders Association of Nashik which he presided from 1992-94. He has also presided the Federation of Promoters and Builders Associations of Maharashtra which is now known as CREDAI - Maharashtra, from 1997-2001.
As President, FPBAM, he organized the first-ever All India Conference on Housing Challenges and Solutions at New Delhi in November, 1998. He has also worked devotedly for the formation of the Confederation of Real Estate Developers Associations of India (CREDAI). As its Vice-President from 2002-2008, he has played a key role in interacting with the Government of India and the Government of Maharashtra in respect of various problems and issues faced by the Real Estate sector and the consumers.
As a philanthropist, he has played a significant role as the Managing Trustee of Sahayog Charitable Trust, President of Halai Lohana Mahajan Samaj and the Vice President of Citizens' Forum of Nashik.